Our website is a great place to begin: we offer a business plan guide to download when you're ready, market reports as well as handy online guides. Take part in our workshops to hone your start-up skills – from how to handle the legal requirements to getting your market research right.
Plus use our Planning to Start tool to guide you through the essential steps of starting up. It takes just 10 minutes to complete and then we can then use the details you give us to create your action plan, complete with links to relevant information and support.
We'll also recommend free workshops to help you hone your skills and may refer you to relevant support from our partners.
A business adviser from your local office will also get in touch to see how else we can help at this stage and signpost you to a wide range of other support across Scotland.
With our help, you could be in business sooner than you imagined.
Running a Business?
Maintaining a business or moving up a gear can be more daunting than starting up, so our support continues and grows with your business.
We know that your time is in short supply, so if you can't get to your local office for 1:1 advice, we'll come to you. Together, you and your business adviser can tailor a strategic action plan to your ambitions. Need targeted advice on HR, Restructuring, Innovation, Exporting or Digital Marketing? Your adviser can help with that too. And if you need more specialist input, we can connect you with other sources of support.
Use our resources, support and tools to learn new skills, create opportunities and gain confidence.
We run around 3,500 events each year across Scotland, with workshops on topics from bookkeeping to social media.
Get in touch with your local Business Gateway office today.
Tap into our free local workshops, 1:1 expert adviser support and online tools and tutorials to help you improve your digital performance. Our DigitalBoost guide has been downloaded 20,000 times and some 1,200 workshops have together attracted more than 14,000 business people.
A DigitalBoost HealthCheck can pinpoint your digital strengths, where you could do more and how we can help. Take five minutes now to fill in our form and discover how to give your business a real boost.
Local Support
Business Gateway East Renfrewshire services are an integral part of East Renfrewshire Council's support to local business. The Business Gateway team work very closely with the Council's in-house economic development, business support and employability teams to ensure that local businesses and individuals looking to start up, establish and grow their business receive the best possible support. East Renfrewshire Council offers a wide range of support to help local businesses develop and grow and includes the following:
Planning to Start
Find out what support and tools are available to you by answering a few simple questions with our Planning to Start tool. Then get contact from your local office to take your business idea forward.
Growth New Start Fund up to £500
Designed to support businesses trading for no more than one year with the potential to achieve a minimum annual turnover of £100,000 within three years of trading.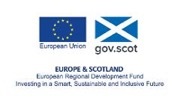 The grant can provide assistance of up to £500 towards the start-up costs of businesses that are able to demonstrate growth potential.
Growth Company Development Fund up to £5,000
Designed to support growth businesses which have been trading for more than one year and can demonstrate the potential to achieve a turnover over £150,000 per annum within 3 years of receiving the grant, but less than €50 million and a workforce of less than 250. The fund can provide up to 50% of eligible costs to a maximum of £5,000.

The Growth New Start Fund and the Growth Company Development Fund are both part-financed by the European Regional Development Fund (ERDF).

Funds can be used to support purchase of Capital Equipment, Exhibitions, Innovation and Feasibility, Web Development and Bespoke Software. It can also support some Property Improvements

Please note that applications for ERDF funding will close on 31 August 2022. All applicants must be able to complete their project and claim all funds back by 31 December 2022.

Ask us if you are unsure if what you want to do is covered.
Micro Business Grant up to £250
This small grant is designed to support businesses trading for no more than 2 years with a turnover of less than £83,000. It can provide assistance towards small important purchases or activity one off items that are important to developing the business or activity and that will make a difference to the sustainability of your enterprise.

All Micro Grant applicants must be able to complete their projects and claim all funds back by 31 March 2020.
For information on the funding support available and the application process please email business@eastrenfrewshire.gov.uk.
Supplier Development Programme (SDP)
SDP is a public sector partnership which delivers a variety of FREE tender training, via classroom style workshops working in conjunction with Local Authorities across Scotland, digitally via webinar and also provides a range of online resources connecting businesses with the Scottish public sector. Registration for SDP events is free for Scottish SMEs, and will connect your business with your local authority's SDP Rep who can offer your business additional support.
Business Workshop and Event Guide January – March 2020
Download this guide to see what workshops and events are being delivered across East Renfrewshire over the next three months.
Business Gateway Barrhead
Barrhead Foundry
Barrhead Sports Centre
Barrhead
G78 1SW
Get directions
Monday to Friday
09:00 to 17:00 (appointment only)