To get more insight and guidance on this subject we spoke with Catriona Davies from Resolution Mediation Scotland who specialises in conflict resolution and staff wellbeing.
Over the past few years supporting mental health in the workplace has become an increasing focus. Many businesses have taken steps to support their staff through employee assistance programmes or investing in Mental Health First Aid courses for key staff members. Often businesses are driven to do this as they are keen to support their workforce and also knowing that such investment improves sickness absence rates and productivity. So why is it even more important to support emotional wellbeing and mental health.
The Effect
You may be aware of your staff acting out of character, you may be observing your own behaviour and not fully understanding what's going on for you. I've spoken to a number of people who are struggling to concentrate or keep their focus on their work - they describe how it seems to take them twice as long to complete a task as they would normally, or perhaps they are struggling to prioritise their workload when usually they are able to do so. Another common description is often feeling overwhelmed, feeling physically exhausted yet in reality doing less physically. Others describe increasingly feeling angry or in greater conflict both at home and at work, being unable to manage their emotions in a way they are usually able to do. Yet others, seem less affected. They seem to be able to manage their workload in their usual way, full of their usual motivation and able to complete tasks on time and to deadline. They are able to manage their emotions as they would normally and seem relatively unchallenged by the current circumstances. Of course, there are others who seem to vacillate within this continuum. The fact that there is this continuum, creates difficulties within itself. Those at either end of the continuum may struggle with those at the opposite end. Hearing their colleague talk of how much work they've powered through, whilst seemingly unaffected by all that is going on, only serves to heighten the feelings of overwhelm by those who are struggling. So why are some people managing well and others not? Is it simply that some people are more resilient?

The Cause
To answer these questions, I think it's really helpful to consider Maslow's Hierarchy of Needs.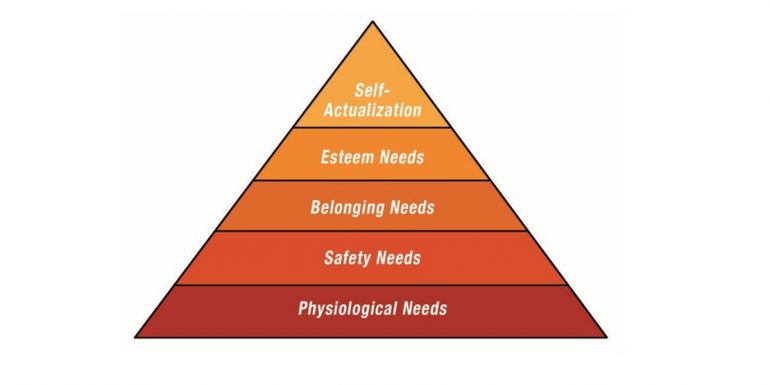 Maslow created the above triangle to describe how people are motivated by their needs. When your basic needs are met (i.e. food, warmth, water, rest) then you begin to seek to ensure that you feel safe and secure. Once you feel safe and secure, you are motivated to have interpersonal relationships, which drive behaviour to have a sense of belonging within social groups.
In this period of COVID-19, there have been times when people have experienced food shortages or have perceived that there has been a shortage. In other words, their very basic needs weren't being met. Therefore, they were completely focussed on ensuring they had food and couldn't begin to focus on work or anything else as it didn't feel as important as securing their basic needs. Similarly, I think that for many people now whilst their basic needs are met as food shortages lessen, they feel unsafe – they are scared of COVID-19. That feeling of overwhelm I described earlier, or inability to focus on tasks is created by their feeling of being unsafe. In addition, people feel they have less control in their life as we simply don't know when this will end. So much of our life and routine, has been disrupted and therefore, it creates a feeling of a lack of security.
The struggle to think of others beyond our immediate family, is due to our safety needs not being met. We may get angry or have increased conflict within our team as we fundamentally feel threatened and therefore seek to protect ourselves and families first. Our feelings are creating overwhelm and our emotional wellbeing is under stress.
Of course, there are others who haven't experienced food shortages or who haven't perceived there to be shortages. Their basic needs have been met. They similarly, have less fear of Covid-19. Perhaps, they have had a mild version or have taken steps to reduce their exposure to media reports of the pandemic. Whatever the reason, they remain feeling safe and secure and therefore able to be further up the hierarchy of needs and seems less affected by the current situation.

The solution?
As business owners and managers, I believe it's helpful to understand why we are affected by COVID-19 in our individual ways. In addition, I think its helpful to share this understanding with your workforce, so that they too understand. We may not be able to control the outcome of when COVID-19 will end - what we can do is have greater understanding of what that means for each of us. In creating more understanding, we improve emotional wellbeing, particularly for those who are more stressed by the current situation.
My hope is that by understanding why we may be feeling stressed or overwhelmed in these unprecedented times, we also understand why it is so crucial that we take steps to support the emotional well-being of our staff. It has never been so important to look after our staff and ensure that as life begins to return to some form of normality, our workforce is there to support our business to grow.
Want to speak with your nearest Business Gateway team?
Your local Business Gateway can offer you free 1:1 advice and online support to help you with anything to do with your business or if you are just thinking about starting up then we can support you with that too.
Fill in the form below and we will get back to you to help.