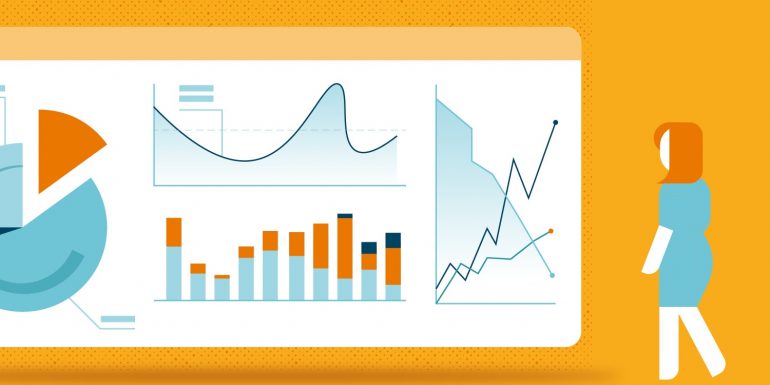 It's not the advice you'd expect from someone who's spent more than a decade helping businesses measure, analyse and optimise what they're doing through data – but you can rest assured it's sound.
As the Founder and Managing Director of Edinburgh-based analytics consultancy Lynchpin, Andrew Hood can be considered a true digital native. His career began during the dot-com boom when he worked for the biggest hotel reservation website of the time. He has since worked for a raft of high-profile clients – and every one of them has been given the same starting advice.
"Analytics can be daunting if the starting point is looking at the data," says Andrew. "Businesses need to start with some very focused outcomes they're looking to generate, whether that's increasing profitability or scaling up growth, and then begin looking at what data they can use to help them achieve these outcomes. That's where it starts."
Of course, data's not a new phenomenon. Whether stored on punch cards in filing cabinets, saved on spreadsheets or held within cloud databases, businesses have always had it. "What's really changed," says Andrew, "is that where once businesses had to outsource agencies to look after their data when they got to a certain size, now they can take responsibility for much of this themselves."

Today, many of the tools and technologies involved in data analytics are more accessible and affordable than ever before, in the same way that many markets have been affected by cloud-based technologies.

Data's not a new phenomenon. Whether stored on punch cards in filing cabinets, saved on spreadsheets or held within cloud databases, businesses have always had it.

But what exactly is the need for businesses, particularly SMEs, to take charge of their data? "There tends to be two primary needs," says Andrew. "One is understanding what's working and what's not working.
The other – and this is key for so many businesses – is understanding their customers and understanding what those relationships mean. "Let's put this into context. Imagine you own a brick-and-mortar artisan bakery chain in the city. You've got three branches, a website with an online shop, a modest social media presence, you run a monthly email campaign, and you rely on several local suppliers."
"Your website will provide you with behavioural data telling you how people are interacting with your website and what products they're looking at," Andrew explains. "Your social media presence would give you, from a data perspective, some sense of customer sentiment and how people feel about your brand. Looking at how people respond to your emails will be useful, and the medium itself can be useful for trying different things on different groups of customers – breads versus cakes, potentially. Lastly, that you rely on multiple stockists is a potential opening to some very valuable data about your supply chains, allowing you to tell which levers you need to pull when you want to, say, increase sales by x."
In brief, businesses today are generating considerable amounts of data, and the potential benefits afforded because of this are manifold. Yet it's important that they don't try to analyse everything at once. "This is true for any size of business, but particularly for SMEs where dedicated internal data analytics resources are rare," says Andrew. "Far better for a business to be doing a couple of things really well – and directing them towards those very clear business outcomes set up at the start – rather than trying to boil the ocean."
And data really can feel like an ocean for SMEs. Yet smaller businesses do have a distinct advantage when it comes to making the most of the data available to them. "SMEs often have owner-managers, so there's a genuine convergence on one or two people for any given business to really make it work," says Andrew. "I think SME's have more direct control over some of the levers they can pull. If they want to change something based on a data-borne insight it's not a case of having to play with budgets across different P&L divisions. There's much more agility."
Of course, the nature and scale of a business dictates its overall data requirements – but given the fundamental benefit of evaluating operations and performance and understanding customers, it's difficult to conceive of a business for which data analytics is entirely futile. And considering the accessibility of the technology and tools, as well as the expertise available both online and offline all businesses can now realise the fact.
In summary
There are two primary needs for businesses to take charge of their data: to learn what's working and not working, and to understand customers.
Specify outcomes from the beginning. Do you want to increase profitability? Scale growth? The data comes second.
Businesses no longer have to outsource agencies for all of their data needs. Become familiar with the tools available to you – there are many.
Know where your data lies. Do you have an online shop? Do you run email campaigns? Do you have a social media presence? Do you rely on suppliers?
Don't bite off more than you can chew. It's better to run one or two data analysis techniques well than trying to analyse everything at once.
SMEs often have much more agility when it comes to data analytics than big companies. Seize the opportunity.
Want to speak with your nearest Business Gateway team?
Your local Business Gateway can offer you free 1:1 advice and online support to help you with anything to do with your business or if you are just thinking about starting up then we can support you with that too.
Fill in the form below and we will get back to you to help.