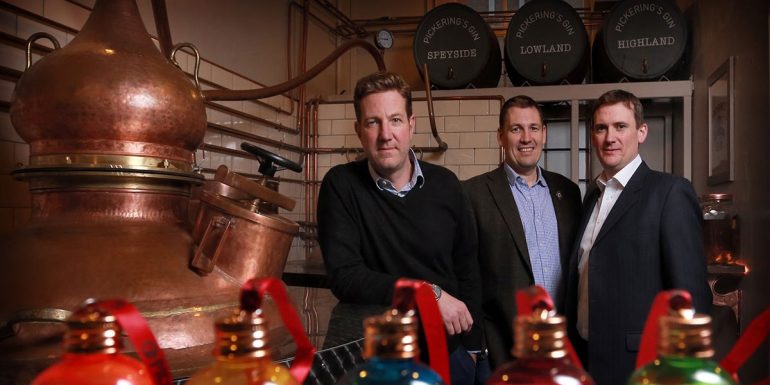 LendingCrowd is the only financial technology (fintech) lending platform headquartered in Scotland. The Edinburgh-based company enable businesses from Wick to Wigtown to fund their ambitions with fast and flexible business loans of between £5,000 and £500,000.
Small and medium-sized enterprises (SMEs) are the powerhouse of the Scottish economy, making up more than 99% of the business population and accounting for over 55% of private sector employment. However, since the financial crisis a decade ago, banks have been reducing their lending to SMEs, which have struggled to secure the finance they need to grow.
LendingCrowd founder and CEO Stuart Lunn identified this market failure and established the platform in 2014 to help fill the funding gap experienced by small businesses. LendingCrowd's leading-edge technology connects borrowers directly with its community of individual and institutional lenders to speed up the financing process. Loan terms range from six months to five years. The platform allows borrowers to make one-off or regular overpayments to reduce their loan term, or repay in full with no early repayment fees.
A wide variety of small businesses have reaped the benefits of a LendingCrowd loan, including sole traders, partnerships and limited companies. Loans can be for any business purpose, such as investing in new equipment, hiring more staff, refurbishing premises or refinancing existing debt.
Summerhall Distillery, the Edinburgh-based producer of Pickering's Gin, used a LendingCrowd loan to expand its facilities and meet demand for its hugely successful gin-filled Christmas baubles. Marcus Pickering, co-founder of Summerhall Distillery, said: "The massive demand for our baubles took us pleasantly by surprise, so working with LendingCrowd has allowed us to react quickly and make sure we deliver for our customers."
To be eligible to apply for a LendingCrowd loan, a business just needs to have been trading for at least two years and have an annual turnover of £100,000 or more. Borrowers can check their eligibility in just 60 seconds and apply in minutes at www.lendingcrowd.com/borrower
LendingCrowd knows that business owners are busy, so the platform's expert Credit Team aims to respond with a lending decision in as little as 24 hours. Once the loan has been funded and all the necessary paperwork has been completed, the funds can be in the borrower's account the same working day.
Coolin Sky, an operator of holiday accommodation on the Isle of Skye, used a LendingCrowd loan to expand its business by purchasing a bed and breakfast on the island. Director Eddie Tweedie said: "The loan went on the platform on a Friday morning and I was expecting to have an agreement around Monday afternoon. Come lunchtime on the Friday the loan had been funded. I've been doing mortgages since 2007 and I've never known speed like that. Absolutely first-class service."
As a responsible lending platform, affordability is key to LendingCrowd's credit decisions. Therefore, the platform focuses on a borrower's ability to repay their loan when assessing their application. LendingCrowd may be a fintech business, built on proprietary technology developed at its Edinburgh headquarters, but a human always makes the final lending decision. If LendingCrowd is unable to provide funding, the team likes to work with businesses to find the solution that best meets their needs.
Small businesses choose the award-winning platform to fund their growth because of its straightforward application process, speed of decision making and ability to provide funding more quickly than high street banks.
A survey of LendingCrowd borrowers across Scotland indicated that businesses create an average of 2.6 jobs for each loan that it delivers. This positive impact is not limited to those who borrow from LendingCrowd. Almost 80% of respondents to the survey said their loan had helped other businesses, for example their suppliers.
Even among those who did not expand their workforce as a direct result of LendingCrowd's support, a number of borrowers said its lending had enabled them to retain employees who would otherwise have lost their jobs.
Borrowers also appreciate the platform's local, friendly and helpful approach to doing business – it has actually increased its Business Development team across Scotland at a time when the banks have withdrawn such personal services.
The Covey Agency, a full-service advertising, creative and marketing agency based in Edinburgh, used a LendingCrowd loan to grow the digital side of its business. Managing Director Vic Covey said: "When any business is looking to raise funding, it's for a reason, and that reason is usually reasonably immediate. We've done two deals with LendingCrowd and it's been seamless – everybody's been delightful and very helpful. LendingCrowd ticks all the boxes for me."
In its survey of Scottish borrowers, a quarter of respondents said they would have been "very unlikely" to obtain funding in LendingCrowd's absence. They said that a failure to secure funding would have been a "missed opportunity" leading to a negative impact on jobs and plans to invest in their business.
LendingCrowd sees a significant opportunity to assist even more SMEs in Scotland, where the commercial finance market is dominated by three large banks. This has impeded the expansion of non-bank lenders and hence choice for SMEs, but borrowers are choosing LendingCrowd in ever-increasing numbers as awareness of its brand and approach continues to grow. The company also recently signed an exclusive three-year deal with The Institute of Chartered Accountants of Scotland (ICAS) to be its business lending partner and drive awareness and education of alternative finance among accountants who advise our dedicated SMEs.
As a result of the high growth and increased demand from small businesses, LendingCrowd is one of only three Scottish companies to be included in the latest Deloitte Technology Fast 50 ranking of the UK's fastest-growing tech businesses. It was also named Alternative Finance Provider of the Year and Business Lender of the Year at the recent British Business Awards and took home the title of Best P2P Business Lender at the inaugural Growth Finance Awards.
For more information about LendingCrowd and how the platform can help, call 0131 564 1600 or visit www.lendingcrowd.com.
Want to speak with your nearest Business Gateway team?
Your local Business Gateway can offer you free 1:1 advice and online support to help you with anything to do with your business or if you are just thinking about starting up then we can support you with that too.
Fill in the form below and we will get back to you to help.